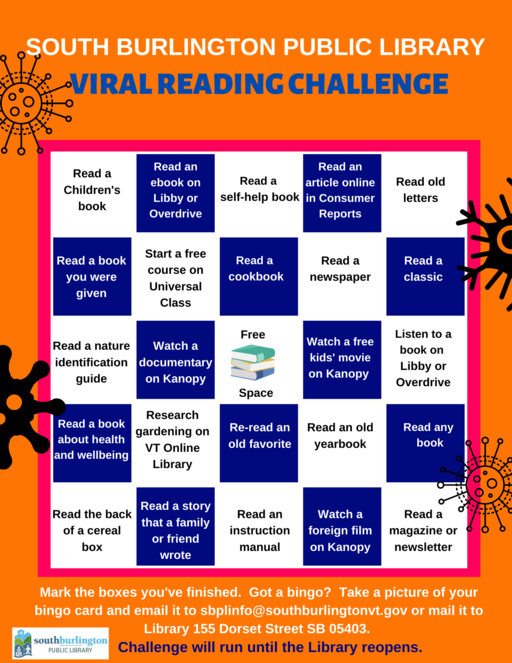 The Library is still closed, and it can be hard to get to the bookstore. What do you do if there is nothing to read? Take our Viral Reading Challenge
and "get the reading bug!"
Look around you. Are you sure there is nothing to read? This bingo board challenges you to find something to read right where you are. We hope you will share your thoughts about what you find to read below or on the library's
Facebook
page.
Library staff is also available to help you access
ebooks and audiobooks
,
streaming videos
,
classes to take
, and
articles to read
.
Contact us
or visit our
YouTube Channel
for tutorials.
Our hope is that between the hidden gems you have at home and the extensive virtual opportunities the library offers, you will have plenty to read!
Download your own printable bingo board here! Print it, fill it out, and take a photo to send to
sbplinfo@southburlingtonvt.gov. Or you can mail it in to South Burlington Library, 155 Dorset Street, South Burlington, Vermont 05403. If you don't have a printer, ask us to mail a paper copy to your home!
Act quickly for a chance to win a quality cotton face mask.